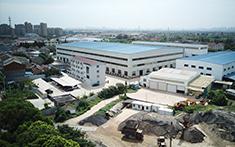 SANKON tilting hanger is a main component of AAC equipment which is used in the production of autoclaved aerated concrete. It can turn over the blank together with the mould and the side plates 90 degrees in the air, then demoulds the blank and puts it on the cutting table or cutting cart for cutting.
Specifications
Serial Number: 1, 2
Hanging weight: 4+4t, 6+6t, 8+8t.
Lifting type:
Oil cylinder lifting type
Wire rope lifting type
Chain type lifting type
Wire rope type crane and chain type crane is cheaper than oil cylinder crane. From the long time view, wire rope and chain are easily fatigued. It should be changed on time.
Compared with wire rope and chain, oil cylinder maintains less cost.

Service
SANKON tilting hanger is warranted for one year. Installation and commissioning services are also available.
As a China-based tilting hanger manufacturer, we also offer other components of AAC machine, such as cutting machine, pouring mixer, separating machine, etc. to suit your various needs. With the advantage of superior quality and eco-friendliness, these products are well received in India, Saudi Arabia, Indonesia, Vietnam, among others.
Thank you for your interest in our components of AAC machine. If you have any questions or concerns, please feel free to contact us.