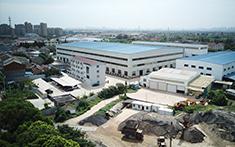 Pouring mixer
Pouring mixer is one of the core equipment in AAC production line batching process which mixes all prepared raw materials completely within a very short period (Main material inside: fly ash or sand fresh slurry, recycled slurry, lime, cement, gypsum and aluminum). Pouring mixer adopts diversion-type mixing principle. According to customer's requirements and production standards, there are two types of pouring mixer, normal speed mixer and high-speed mixer.
Specification of pouring mixer:
1. 3.6m3 (50,000-15,000M3),
2. 4.2m3 (15,000-20,000M3)
3. 5.4m3 (20,000-30,000m3)
Structure
The pouring mixer is composed of mixing barrel body and pouring arm.
The mixing barrel body is cylindrical and composed of motor, mixing shaft and mixing blade.
Material discharging of pouring port is controlled by the pneumatic butterfly valve.