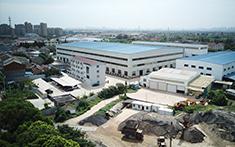 The components of AAC machine shown here are mould, side plate and hardening car. The mould and side plate are used to hold material slurry which is solidified into the blank after settling, curing and foaming processes. The side plate carries the blank to the cutting machine where the blank are cut into pieces. Then these pieces will be fed into the autoclave to be hardened.
Specification:
Dimensions: 4x1.2x0.6m,
4.2x1.2x0.6m,
4.5x1.2x0.6m,
4.8x1.2x0.6m,
5X1.2X0.6m
6x1.2x0.6m
6X1.25X0.6m
6X1.5X0.6m
Or according to customer's special requirements
Packaging
The electric control panel and spare parts are in wooden or iron package, while main body of big size equipment is unpacked. Special package requests are also accommodated.
Service
A one-year warranty
Installation and commissioning service
ABOUT BOTTOM
Only horizontal entering into autoclave type has bottom plate,
Bottom plate has two types: solid type and hollow type.
Specifications: 4.2m 4.8m 5m and 6m.hollow type bottom plate have features of fast cooling and uniform heating. Compared with soild type, people prefer to hollow type.
Packing type:
The main of big size equipment is unpacked. Small parts will be packed in wooden box. Special package requests also accommodated.
Service:
A one-year warranty
Installation and commissioning service.
In Iran, we have an after-sales service station, in other country, under building now.
SANKON is an ISO9001 certified manufacturer and supplier of components of AAC machine, based in China. In addition to mould, side plate, hardening car, we also supply separating machine, finished crane, packing conveyor, etc. In addition, our company is beside the Yangtze River delta which provides us with convenient transportation. This can help you reduce the international transportation costs. Thank you for your attention. If you would like to know more about our other products, please turn to corresponding pages of block making machine, dry mortar machine, etc. We welcome you to contact us and we look forward to working with you.