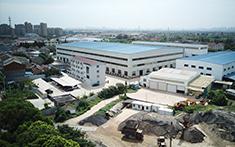 SANKON separating machine of AAC equipment is designed to separate AAC blocks or panels layer by layer to avoid sticking, which helps improve the conforming product rate and quality of finished product. As this separating machine is accompanied by a one-year warranty and installation, commissioning services, customers can feel secure in purchasing and using it.
Separator have two types:
One is ground fixed separator, fixed on the ground, it has a high stability.
Another is air separator, it saves space.
Which situation need separator?
Most sand AAC plants need separator, sand block is more sticky than flyash block. Sand AAC air overturn plant must need separator, sand AAC air turn to ground overturn plant doesn't need separator. Certainly, details based on fact situation.
Founded in 2007, we are a China based separating machine manufacturer and supplier. Through constant efforts of our dedicated staff, we can offer customers a great variety of AAC Machine, like block making machine, semi automatic AAC panel machine, dry mortar machine, and others. In addition, our location in Wuxi City gives us easy access to convenient air, land and sea transportation. This keeps our costs down, and reduces transportation costs for our customers.
Whenever you have a need for any of our products, please feel free to contact us at SANKON.